Ex New Labour Member of Parliament for Dover & Deal
Gwyn Prosser has three homes paid for by the state yet he was a member of a planning committee which voted to enter my property and destroy my home. This action not only breached two sections of the Town and Country Planning Act but made a family with two children homeless.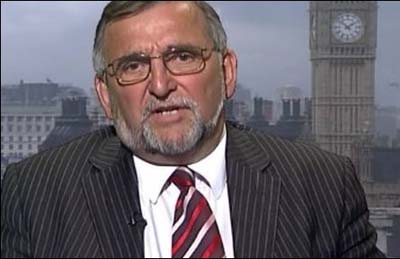 In 2004 I wrote to Gwyn Prosser, when he was New Labour MP for Dover, asking for his assistance in resolving my dispute with the council and explained that my letters to the Planning Department and various District Councillors had been ignored. I asked him if he would allow me time to discuss this matter further at his next available surgery.
He wrote back informing me that he was a Member of the Opposition Group on the Council at the time my home was demolished and he had a recollection of the course of events that led to demolition. He didn't agree to meet me but said that he would write to Dover Council's Chief Executive.
Mr Prosser wrote back to me some time later advising me that there was little he could do at this stage. We exchanged a few more letters and I provided him with more factual information but no progress was made. I got the impression that he was not concerned about the Council's wrongdoing.
During 2006, whilst gathering evidence against Dover District Council DDC, I discovered that at the time the order was given to demolish my home, not only was Mr Prosser a Member of the Opposition Group on the Council, he was also a Member of the Planning Committee that gave the demolition order.
When I discovered that fact I wrote to him and asked the specific question:
"Are you aware that Council Officials misled the Planning Committee and the Planning Inspectorate in order to achieve their aim to demolish my home?"
I explained to him that this had been confirmed following an investigation commissioned by the Chief Executive and the subsequent report highlighted serious failings of both the Planning and Legal departments.
He didn't answer my question so I wrote and asked him again. Once more he refused to answer! It makes me wonder why. Perhaps the planning committee were fully aware of what they were doing and were not being misled. If so that makes them complicit in the criminal act of demolishing my home.
We exchanged a few more letters but Mr Prosser didn't seem very helpful. In fact he told me that he wouldn't help pursue protracted grievances that were the responsibility of the constituent. He added that if I did attend a 'surgery' he would allow me fifteen minutes of his time but not time to re-visit the 'unfortunate events of the past twenty two years'.
Mr Prosser obviously realises there has been a wrongdoing and a criminal act committed, so why does he want to ignore it?
Was our local Member of Parliament content that Dover District Council DDC acts above the law and should it be asked, is he part of the problem?
When he was on the planning committee was he deceived or was he in fact an active, knowing part of the wrong and the public deception that followed?
If it was an 'unfortunate event' but a genuine mistake, what is he afraid of in helping to put it right?
It is important to emphasise that Dover District Council DDC were found guilty of maladministration with injustice regarding the demolition of my home by the outcome of their own investigation.
Whilst Mr Prosser appears to be genuinely concerned about Dover town he isn't willing to help remedy a proven issue of maladministration and injustice within Dover District Council.
Is it naive for a constituent to expect their MP to abhor a proven wrong carried out by a public funded body?
In connection with the much publicised MPs' expenses scandal This Is Kent reported:
---
Dover and Deal MP Gwyn Prosser's expenses revealed
Thursday, June 25, 2009 – This is Kent
A PANASONIC TV costing £718

A £200 TV stand

A £330 bed

A £170 armchair 
They are just some of the items Dover and Deal MP Gwyn Prosser has paid for with YOUR cash.
Using the second homes allowance, covering the cost of having somewhere to live in London while carrying out Parliamentary work, the Labour backbencher also used taxpayers cash to buy £229 light fittings, £199.50 blinds and pot plants worth £49.99.
The claims were made between 2005 and 2007.
The former seaman, who has two flats in the capital and a family home in River, also racked up £11,118.66 in food bills from April 2004 to March 2008 and claimed £3,334.13 in January 2006 for items which have been blacked out by the Commons authorities on expenses documents made public last week.
On top of Mr Prosser's salary, which was upped from £61,820 a year to £64,766 on April 1, the father-of-three has also claimed for items including £32.50 for Fairtrade coffee and hot chocolate for his Dover office, £24 for a toaster, £229.99 for a washing machine, £219 for flooring, £35 for kitchen utensils and £44 for a fan.
This is in addition to monthly mortgage interest payments ranging from £765 to £913, £650 of public money he used to pay his brother Huw to lay flooring at one of his London properties in 2006, £375 of incidental expenses for office costs towards a wifi laptop bought from ebay and a whopping £769 to have his yearly tax returns done. Regular claims were also made for utilities bills and for BT and two mobile phone service providers.
In March Mr Prosser slammed attempts to keep expense claims under wraps saying secrecy shattered the public trust in MP's. He told the Express:
"There is the impression that we are all crooks."
Mr Prosser, elected in 1997, has defended the claims, saying: "When my washing machine at home blows up I pay for that and all other things for my house in Dover I pay for but there are additional costs for having a home in London and if I didn't have to live away I wouldn't have those costs."
The father-of-three has expressed dismay at the huge swathes of information blacked out by Parliamentary authorities and has offered to show the Express unredacted copies of the documents at the end of this week.
He said: "The Clerk of the House and Chief Executive gave written warning to all MPs in all parties that publishing their accounts in their raw condition could make us liable for prosecution under the Data Protection Act. In my view they have been over protective and the whole-scale redaction of documents has only served to reinforce people's views that there's a big cover-up going on.
"Like most of my colleagues I have got nothing to cover up and as long as I can protect the privacy of my staff's personal details and bank account numbers, I am more than willing to invite the local press to my office to examine my unredacted accounts. Once I have assurances of the legal position I'll be pleased to publish the lot – without redaction – on my website."
Tory parliamentary hopeful Charlie Elphicke said items such as food should not be claimed for. He said: "We are in a deep recession and hard-working families struggle to buy basic food, knives and forks, toasters and a TV licence. Many families can't afford to replace a washing machine. They will be asking how it can be right that an MP should be able to claim these things on the public ticket. I struggle to understand how it can be appropriate under any circumstances to claim for food but rather than commenting on Mr Prosser I am more interested in reform and rebuilding trust. We need to move forward."
---
And The Daily Telegraph carried the following report:
---
Gwyn Prosser paid his brother, from his taxpayer-funded expenses, to carry out work on his London flat – despite the fact that he lived almost 200 miles away.
His brother, Huw Prosser, who lived near Swansea, was paid £650 of public money to lay flooring at the flat in 2006.
The same year, Gwyn Prosser also made claims totalling £2,782 for work at another flat he owned in London, even though it had not been his designated second home for three years and he was renting it out.
The MP bought his first London flat in Elephant and Castle upon his election in 1997. It was his designated second home until 2003, when he bought a second flat a 10-minute walk away and rented out the first property.
He changed his second home designation to the new flat, but in March 2006 Mr Prosser attempted to recoup the costs of work on his first flat three years previously.
---
In the local newspaper, dated 23 April 2009, it was reported that Dover's MP, 'Three Homes' Gwyn Prosser had claimed £91,463 in expenses on his second home while earning income from letting out his third home. Mr Prosser owns his home in his constituency and two London flats.
The following is an extract from a report in the Dover Express of 14 February 2008:
---
'Three homes' Gwyn wants property reform
DOVER and Deal MP Gwyn Prosser has called for a reform of the system that allows MPs to build up property portfolios using taxpayers' cash despite buying two London homes using cash from a parliamentary housing allowance himself.
The Labour MP was revealed as one of 43 MPs declaring rental income from properties in London or their constituencies while claiming the additional cost allowance. This allowance should be used for mortgage interest and not for capital repayments. The maximum pay out is £23,083 a year. Mr Prosser has claimed £17,713 from the allowance.
He owns two London properties, a two-bed flat which he stays in while in London and a one-bed flat near the Elephant and Castle, which he rents to tenants. He also owns a family home in the affluent River area of Dover.
But Mr Prosser said his allowance has only been used for interest payments although he agrees the system is open to abuse. He said: "I would really welcome a complete reform of the system. There has been much discussion about MPs and some have been abusing the system to a severe degree and that tars us all with the same brush. I was elected in 1997 and I started to buy a one-bed flat in London to live in. I didn't know if I could afford it and I paid a deposit out of my own savings. I started paying the mortgage with my own money but was drawing the interest element from the fees office. It was no longer fit for purpose so in 2003 I put it on the market and looked for a two-bed flat. It did not sell but I needed to go ahead with my purchase and the estate agent suggested I let it. I have just continued letting it since then."
Mr Prosser said the rent payments offer little profit and mainly cover the mortgage repayments although he admitted the property is a capital asset.
He added: "It's all completely within the rules."
www.thisiskent.co.uk
---
If you would like to know more about Gwyn Prosser, his Parliamentary work including questions he raises, plus where he features in the expenses table then go to… theyworkforyou.com